Every time I keep Jesus Christ at the center of my life.  I love Jesus and I have a passion for worshiping Him as well as the Word of God. There are many reasons to Believe in Jesus. Nothing is happening randomly in my life. I believe that Jesus is the one who is working and doing things for me.
Jesus Christ is the one who stays unaltered. It's really important to believe in Jesus because even though we can't see Jesus but we can feel Him all around us.  Every moment Jesus is in control of our life.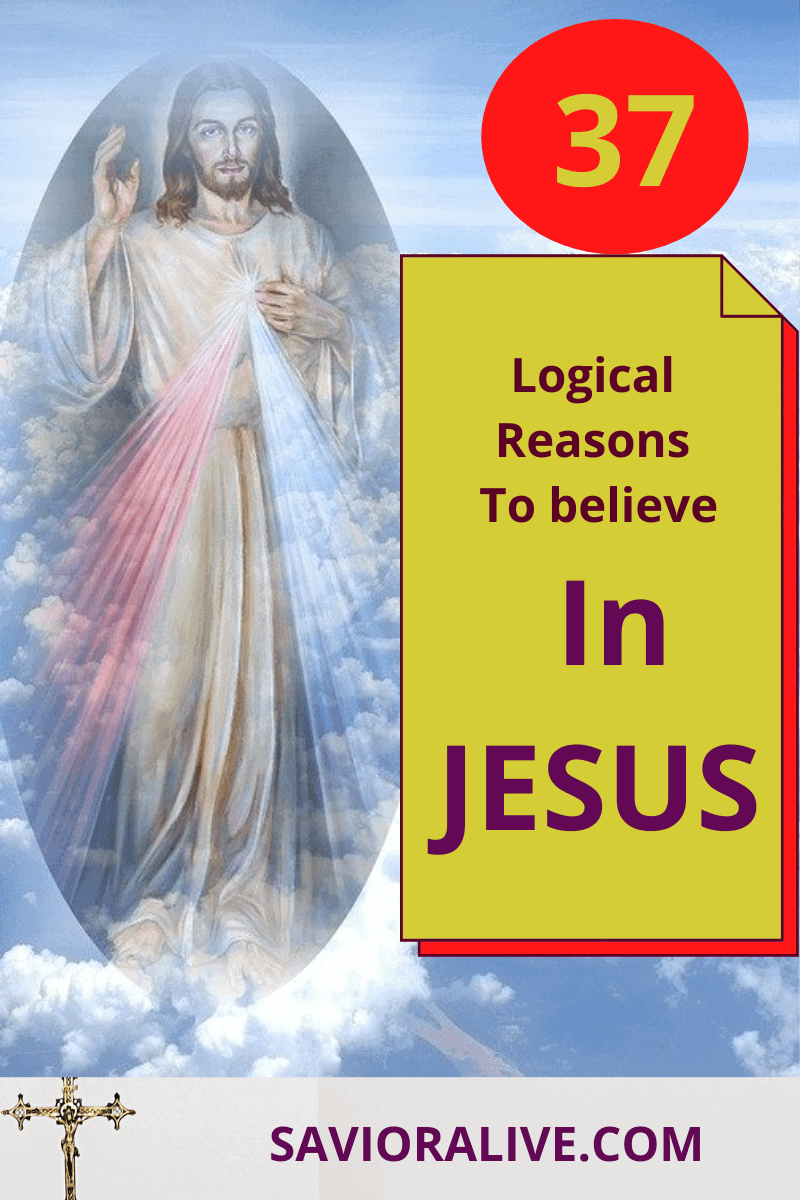 Reasons To Believe In Jesus – Why  I Trust Him
Let me explain my reasons to believe in Jesus. Jesus is an infinite Holy everlasting God.
1. Jesus Christ Has Power In His Name
There is power in the name of Jesus Christ. The name of Jesus is above the worldly sufferings ie- sickness, financial crises, family problems, etc, or anything related to physical as well mental. Jesus's name has authority over any situation. I call out for His name in my hardest times.
2. Jesus Is The Most Trustworthy God In Heaven And Earth
The foremost person who can believe in the whole universe is Jesus Christ. I consider Jesus as someone reliable and trustworthy. When you live with Christ, He is faithful to guide you every day and the days will be blessed.
3. Christ Promised That He Will Take Care For Our Future
God knows our future and He takes responsibility. We just need to sit at the feet of Jesus. The very comforting verse in the Holy Scriptures is written in the  Book of Matthew is that "not to worry about tomorrow".
4. Christ Helps Us To Live A Peaceful Life
Jesus is the God of peace. He will take out all the difficult circumstances in our life that will rob our peace. He will help his followers to live peaceful life.
5. Jesus Is An Amazing Teacher
Jesus is my favorite teacher. He has received authority from God. He teaches us God's law and commandments. His life and teachings inspire me a lot to change my identity.
6. Jesus Rose From The Dead
Jesus is the one who died on the cross and rose from the Dead. His demise and restoration have brought up his definitive authority over death and life, while his rising has shown his influence on earth and paradise above.
Why Jesus Is Important In Our Life?
7. Jesus Is The Only Way To Salvation
As per the Holy, Scripture Salvation is given exclusively through the Prophet Messiah.  He works as the mediator and only path to God. Jesus is the only way to heaven and the only way to get forgiveness for our sins. He came to earth to rescue mankind.
8. Jesus Obeyed The Law Of God
Jesus obeyed ten commandments, never lied or cheated never stole and even his enemies could attest to this. He fulfilled the law of God and Holy Scripture prophecies that all Christians always break and cannot keep. A true Christian needs to obey God's commandments.
9. I Believe Jesus Has The Power To Forgive Sins
Jesus died at the cross to forgive our sins. Only the Lord of All has the power and authority to forgive. The blood of Jesus removes and cleanses us from all sins the only thing we need to repent.
10. Christ Walks On Water
Every time I read the Bible I see Jesus doing amazing miracles. Christ had a purpose and a reason for everything that He did and every miracle He performed. Son of God walks on water to show us his divinity.
11. Jesus Raises Lazarus From The Dead
Jesus has power over the grave and death. Everyone's greatest fear always is death. Jesus declares He is the resurrection and the life.  The one who believes in Him will live, even though they die.
12. Jesus Heals Two Blind Men
It shows the accessibility of Jesus. He works incredible things for the people who have been around him. People who encounter Jesus will live exactly the way that God wants them to lead.
13. Son Of God fulfilled The Old Testament Prophecies
In His fulfillment of these prophecies, Jesus was shown to be Christ. The fact that such frequent times had been expected about the Messiah several years before the birth of Jesus.  One of the most incredible miracles documented in the Bible is the fulfillment of the events.
14. Jesus Raises A Widow's Son From The Dead In Nain
Only Jesus can raise a human from the dead. It speaks about all the time in the Gospels not fear death. If we believe in Jesus then we can go and be in heaven with him.
15. Jesus Have All Authority In Heaven And On Earth
Jesus Christ is King and He is in control of the whole universe. Christ has all power over evil and He has overcome the world and devil. No one has greater power and authority than Jesus. We are victorious in Jesus.
16. Jesus Turns Water Into Wine At The Wedding In Cana
This was the first miracle that Jesus performed. If we take the first step God will provide for the rest. Jesus wants us to live out of the fullness. Christ can change an ordinary life into an extraordinary one.
Why Is It Important For Christians To Believe In Jesus?
17. I Believe Jesus Has The Answer To The Life Problems
Whatever we are facing in this life, Christ is the answer. Jesus is at the point of our need.  He is the bread that came from heaven. When  I start looking at Jesus instead of looking at our needs and troubles, we need to start looking at Jesus.
18. Jesus Heals Many Sick And Oppressed
Even today Jesus is powerfully recovering people and working scientifically enigmatic miracles with the intensity of the Holy Spirit. Anyone could plead for the sick for the sake of Jesus to heal.
19. I Believe Jesus Is The Savior Of  The World
In the whole world, there is only one Savior, Jesus Christ. The universe needs to be convinced that it needs to be saved because wickedness fills it with deceit. This planet can only be rescued by Jesus.
20. Jesus Cleanses And Touched A Man With Leprosy
According to the Old Testament, leprosy makes a man unclean. Here, Jesus stepped forward and touched a leper with remorse. As an unclean man, the leper was not supposed to be next to Jesus, but Jesus was kind enough to reach out to touch him.
21. Jesus Have Authority Over Evil spirit
The Son of God is more powerful than any Demon spirit. Messiah is the Savior who has come to make everything right. Jesus drives away the negative spirit from the man in Capernaum, by revealing that Jesus has spiritual authority.
22. Jesus Have Authority Over All Kinds Of Illnesses
It is documented in the New Testament Gospels that Jesus has power over various kinds of illnesses. And He has the authority to heal any imaginable disease and Acute disease that only Lord Themselves can have. (Jesus heals an official's son at Capernaum in Galilee, Peter's Mother-in-Law Sick With Fever, Centurion's Paralyzed Servant in Capernaum ).
23. Jesus Is My Physician
Messiah is the strongest physician who has ever come to cure the suffering of the earth. Jesus' healing hand is exactly what we needed each day.  Only Christ can bring healing in every aspect of my life whether it will be physical sickness or snags in life.
24. Church Influence Me To Believe In Jesus
The church is the only place where I gain strength. It additionally has a crucial role in believing in Jesus and also a place to learn the instruction of the Savior Jesus. Listening to the preaching of my church makes me learn more about Jesus Christ and His teachings.
25. Jesus Changed My Life
Christ is a great Savior. In all ways, it's better than I thought, Jesus transformed my life. In my childhood, there was a dark shadow that worried our family but Jesus delivered us and now I have been blessed beyond measure. My life has changed dramatically because of Jesus.
26. Holy Scripture Influenced Me To Believe In Jesus
Each time I read the Holy Scriptures, I  have the advantage of knowing something new about Christ. He talks to me through the Holy Spirit. The word of God is the answer to my life today. He encourages me through the Word of God. The Holy Scripture plays an important role in my life to believe in Christ.
27. Jesus Is A Moral God
Jesus is a good teacher of morals. He is a great lecturer on spiritual truth and moral truth. Bible teaches that Jesus's disciples should be religiously engaged in life, to obtain everlasting life with God.  Together at end of the day, we should look back to a Lord who is divine who created humankind with a standard of ethics that represents his own.
28. People Around Me Has Influenced Me To Believe In Jesus
My mother and my grandparents believed in Jesus. As a child, my mother told me a lot of stories related to Jesus, and I loved the stories. It is the most powerful influence on me. My mother and my great mother had strong reasons to believe in Jesus.
29. Jesus Healed My Heart
I have sought peace for my heart too many times, by turning before the Lord in prayer. My life is guided by the Lord Jesus' peace and grace. I have had a deeper relationship with him and my ability to trust him has increased. And the love offered to me by the Messiah has strengthened my faith in him.
30. Jesus Feeds Five Thousand Men
I believe Jesus is a God of provision. He is a Lord who is miraculous and practical. Among the most inspirational tales of the Bible is the story of Christ serving the five thousand people which is used to inspire believers to trust in the great power and grace of Heaven.
31. Reasons To Believe In Jesus Is He Answers My Prayers
I pray to the Lord Almighty every day in the name of Savior Jesus. I realize that I have answers to my requests, Christ listens to my payers and that leads me to one of the reasons to believe in Jesus. And I have seen many miracles in my life. Jesus blessed me more than I imagined.
What Are The Reasons For Belief In Christ?
32. Christ Is My Mediator
Christ Emmanuel is the mediator between the Almighty God and me. I have full rights through Jesus to the Father. Son of God is the best way to be communicated to the Heavenly Father. There is no further choice, and no other channel is needed.
33. Jesus My Comfort
I recognize that only Jesus is the truth that I can trust to get me relief while I have gone through turmoil. Anyone who by faith has a covenant with Jesus should be assured that the Lord can give the power to survive. Even through suffering, the grace of God brings true joy and unexplainable healing.
34. Jesus Is My Strength
Jesus' true believers will live and prosper victoriously. In my life, He enables me to walk in my difficult circumstances. With Jesus' aid, I need not hide in the valleys in fear of the evil forces. I can manage the struggles and twisting paths without fear of falling. I believe Jesus will rise to me in victory.
35. Jesus Is My Refuge.
 When I start to believe in Jesus, I receive the refuge of Jesus Christ. Through the Holy, Scripture Christ assures safety from the rulers of the darkness. When I belong to Jesus, He is my refuge. In the Word of God, I will find directions that take me away from danger as the Savior communicates to my soul.
36. Jesus Is Unchangeable God
It is written in Hebrews 13:8 – Jesus Christ the same yesterday, and today, and forever. Things are changing all around us every day. Our friends, our families, and our relationships everybody will change one day. Our life is a collection of changes. Although what a joy to know that the Lord has never changed. Christ has always been faithful, ever-present, and ever-loving.
37. Jesus Is Everything
I believe in Jesus because He is everything to me. Jesus is real and my most personal companion. When I was a child I pictured Jesus as someone who is my best friend. To this date, He is helping me along on my life journey. During my dark times of life, Jesus was walked with me and Jesus has never failed me.
I encourage everyone to give their life to Jesus. I hope these good logical reasons to believe in Jesus will help you. Jesus is ever-present. He will save your soul and he will make you a new creature. He is the one who can give you eternal life and the gift of heaven for all eternity.
 The one who experiences Jesus can only believe Him.
Jesus Christ is my Lord and Savior!!!