Is there anyone in the world who has never cheated, lied, or deceived someone? or have you been a victim of cheating? Cheating is considered wrong in almost every religion. According to the Holy Bible, the penalties of cheating, no matter how big or small, will resound indefinitely.
Cheating may signify a variety of things to different people. Cheating comes in many forms and degrees. So, in this article, we will look at the Biblical consequences of cheating.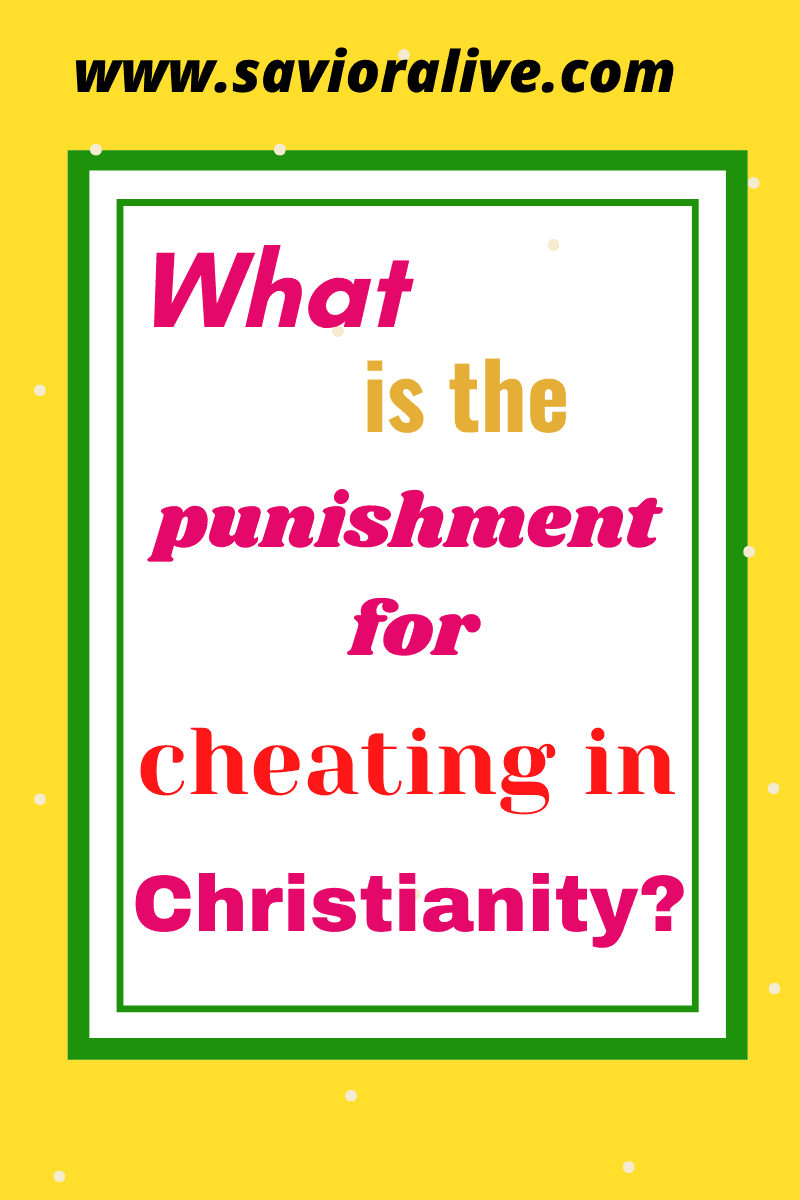 Biblical Consequences Of Cheating | What Is The Punishment For Cheating In Christianity?
I'll start with a definition:
Cheating is stated as acting dishonestly or unjustly to get personal benefit. I probably wouldn't be able to remember the number of Religious people I've encountered throughout my life who have repeatedly cheated on their partners.
So, with the help of the Holy Bible, I've portrayed the history of SEVEN cheating Bible characters and the consequences they faced in real-life.
Lord God has a lot to say about cheating. It is one of the old testament's commandments. "Thou shalt not commit adultery" (Exodus 20:14) 
Cheating was punishable by death in all of the situations we've seen here. Bible Stories About Cheating Are Given Below. Let's read How do you deal with cheating biblically?
How Can You Tell If Someone Is A True Believer? Or True Christian?
1. Eve's Deception by a serpent.
The first humans were Adam and Eve. Lord God entrusted Adam in charge of the Garden of Eden, warning him not to eat the fruit of the Tree of Knowledge of Good and Evil. Eve was cheated by Satan into disobeying God. The devil seduces Eve to eat from the tree, but Eve refuses and tells the serpent what God has told her.
The snake responds that she will not die and that if she eats the fruit of the tree "then your eyes shall be opened, and ye shall be as gods, knowing good and evil." Eve ate the fruit and handed some to Adam, who also ate. The deception used by the evil spirit weapon enticed Eve to sin.
Biblical Consequences Of Cheating In Eve's Fall.
(The snake is cursed by God almighty to crawl on its belly and eat dust as punishment for its responsibility in the fall.)
The woman said, "The serpent deceived me, and I ate."
So the Lord God said to the serpent, "Because you have done this,
"Cursed are you above all livestock
and all wild animals!
You will crawl on your belly
and you will eat dust
all the days of your life.
And I will put enmity
between you and the woman,
and between your offspring and hers;
he will crush your head,
and you will strike his heel."
2. Jacob: The Cheater
When Jacob's father, Isaac, was elderly and nearly blind, he wished to bless Esau, his eldest son, before he died. The birthright and blessing were two significant privileges that a kid received as a result of being born first.
Jacob deceived his father to obtain the blessing, and he was also the one who asked his brother to give the birthright with a bowl of stew and afterward with the assistance of mother Rebecca. In addition to blatant lying, Jacob frequently used deception, plotting, and manipulation to achieve his goals.
Biblical Consequences Of Cheating In Jacob's story.
1. He was separated from his family. Years of being with his mother and father were lost to him.
Now then, my son, do what I say: Flee at once to my brother Laban in Harran.
Stay with him for a while until your brother's fury subsides.
2. Jacob found his Uncle Laban a greater fraud and cheater than he had ever imagined. Laban, Jacob's father-in-law, deceived him. He ended up working for free for 14 years.
When morning came, there was Leah!
So Jacob said to Laban, "What is this you have done to me?
I served you for Rachel, didn't I? Why have you deceived me?"
You know that I've worked for your father with all my strength,
yet your father has cheated me by changing my wages ten times.
3. Rachel Stole Her Father's Household gods.
Jacob was Rachel's husband. Jacob and Laban's past was rife with deception and hardships. Before returning to her husband's house, Rachel snatched her father's household gods. Rachel didn't tell Jacob of her actions, so that when Laban suspected him of robbing them, Jacob decreed that anyone who was caught in possession of them would be executed.
Laban started searching for his household gods and entered Rachel's tent, but he didn't find anything. She sat on them and told him she couldn't get up since she wasn't feeling good. Rachel likewise disobeyed her heavenly Father by violating all of His commandments.
Biblical Consequences Of Cheating In Rachel Life.
(Rachel died as a result of the unanticipated repercussions and problems of being imperfect as a result of sin, which ultimately leads to death in some form or another.)
Jacob and his group left Bethel. Before they came to Ephrath, Rachel began giving birth to her baby.
She was having a lot of trouble with this birth. She was in great pain.
When her nurse saw this, she said,
"Don't be afraid, Rachel. You are giving birth to another son." Rachel died while giving birth to her son. Before dying, she named the boy Benoni.
4. Ananias And Sapphira Cheat On Their Tithe
The Religious people in the ancient Christian church in Jerusalem were so close that they sold their extra property or assets and gave the proceeds to ensure that no one went hungry. This asset sharing was not a formal obligation of the congregation, but individuals who engaged were regarded fairly.
Their charity demonstrated their sincerity. Barnabas was one of the ancient church's most giving members. Ananias and his wife Sapphira also sold land, but they retained a portion of the revenues for themselves and gave the remainder to the congregation, laying it at the feet of the apostles. Ananias and Sapphira's transgression was the first reported sin in the newly formed congregation. The most serious spiritual illness infecting the church is dishonesty.
Biblical Consequences Of Cheating In Ananias and Sapphira Life.
(Ananias and Sapphira dropped dead for their sin.)
Acts 5
When Ananias heard this, he fell and died
At that moment she fell at his feet and died.
5. Jezebel Cheats Naboth For Land.
King Ahab is among the most well-known figures in Israeli history. The king's wife was Jezebel. King Ahab desires to enlarge the borders of his castle at Jezreel, therefore Ahab claims Naboth's vineyard on the hills of the Vale of Jezreel.
Naboth declines to sell the vineyard to the ruler because he cannot give up his father's ancestral land under Jewish law. Jezebel, upset at Naboth's unwillingness to serve King Ahab, has Naboth tortured to death on a false charge. She then grabbed his property allotment for the Ahab.
Biblical Consequences Of Cheating In Jezebel Life.
(Jezebel was thrown to her death from her chamber in Jezreel's royal palace by her servants.)
And he looked up at the window, and said, "Who is on my side? Who?"
So two or three eunuchs looked out at him.
Then he said, "Throw her down."
So they threw her down, and some of her blood spattered on the wall and the horses, and he trampled her underfoot.
6. Judas Iscariot The Disciple Who Betrayed Jesus
As per the Scriptures, Devil possessed Judas Iscariot and took him to the chief priests, these top priests are Jesus' opponents who were urgently looking for a means to get rid of Him. They had not been able to do so previously because they were afraid that arresting Jesus amid the crowd would provoke a conflict and they would be responsible for it.
As a result, they would be happy if someone could assist them in easily laying hands on Jesus while He is not encircled by the multitudes. Judas Iscariot was in it for the wealth, and finance was his primary motivation for deceiving Jesus. So he betrayed Jesus.
Biblical Consequences Of Cheating In Judas Iscariot's Life.
(Judas Iscariot commits suicide. Matthew says that Judas died by hanging.)
So Judas threw the money into the temple and left.
Then he went away and hanged himself.
7. David's Adultery With Bathsheba And Murder Of Her Husband Uriah.
David was the greatest potential ruler of ancient Israel, a king who supervised over a golden period for God's people.
During the spring, when battles are most common, Israel's armed forces went to war under the command of General Joab, but King David stayed in Jerusalem. David was roaming around on the top of his castle one day when he noticed Bathsheba showering.
The king might have diverted his sight, but he was attracted to another man's wife. Imbibed by desire, he exploited his influence to get her into his home, where he winds up fathering a kid with her. According to the Scriptures, he attempted to cover up his infidelity, but he failed and ordered Uriah to be thrown in the front lines of war, where he would be murdered.
Biblical Consequences Of Cheating In David and Bathsheba's Life
(David and Bathsheba suffered from the punishment of the death of their child.)
On the seventh day, the child died.
David's attendants were afraid to tell him that the child was dead.
What Does The Bible Say About Cheating?
So let's slightly modify the original query and check what does the Holy Bible says about cheating.
The Scripture is quite clear about its perspective on infidelity and unfaithfulness. Lord God despises deceitful activities.
In terms of spirituality, any intentional act of exploiting others would fall under the same cheating category.
Dishonest activities do not evade the eye of the Lord.
Godly individuals do what is right, bring glory and joy to themselves, and have confidence. Wicked folks violate Lord, cause harm to everyone, are despised, and their lives end in ruin.
Let's See What The Holy Bible Specifically Says About Cheating And Its Consequences.
Pay close attention to these passages.
Marriage should be honored by all, and the marriage bed kept pure, for God will judge the adulterer and all the sexually immoral.
"You have heard that it was said, 'You shall not commit adultery.
Better the poor whose walk is blameless
than a fool whose lips are perverse.
But a man who commits adultery has no sense;
whoever does so destroys himself.
So is he who sleeps with another man's wife;
no one who touches her will go unpunished.
The Lord detests lying lips,
but he delights in trustworthy people.
The righteous hate what is false,
but the wicked make themselves a stench
and disgrace themselves.
Truthful lips endure forever,
but a lying tongue lasts only a moment.
The one whose walk is blameless is kept safe,
but the one whose ways are perverse will fall into the pit.
The Lord detests dishonest scales,
but accurate weights find favor with him.
So I say, walk by the Spirit, and you will not gratify the desires of the flesh. For the flesh desires what is contrary to the Spirit, and the Spirit what is contrary to the flesh. They are in conflict with each other so that you are not to do whatever you want.
Do not be deceived: God cannot be mocked. A man reaps what he sows. Whoever sows to please their flesh, from the flesh will reap destruction; whoever sows to please the Spirit, from the Spirit will reap eternal life.
Those who consider themselves religious and yet do not keep a tight rein on their tongues deceive themselves, and their religion is worthless.
but each person is tempted when they are dragged away by their own evil desire and enticed. Then, after desire has conceived, it gives birth to sin; and sin, when it is full-grown, gives birth to death.
For of this, you can be sure: No immoral, impure, or greedy person—such a person is an idolater—has any inheritance in the kingdom of Christ and of God.
You shall not commit adultery.
Put to death, therefore, whatever belongs to your earthly nature: sexual immorality, impurity, lust, evil desires, and greed, which is idolatry. Because of these, the wrath of God is coming. You used to walk in these ways, in the life you once lived. But now you must also rid yourselves of all such things as these: anger, rage, malice, slander, and filthy language from your lips.
But I tell you that anyone who looks at a woman lustfully has already committed adultery with her in his heart.
You know the commandments: 'Do not commit adultery,'
'Do not murder,' 'Do not steal,' 'Do not bear false witness,'
'Do not defraud,' 'Honor your father and your mother.'
"You shall not covet your neighbor's house.
You shall not covet your neighbor's wife, or his male or female servant,
his ox or donkey, or anything that belongs to your neighbor."
When the people saw the thunder and lightning and heard the trumpet and saw the mountain in smoke, they trembled with fear. They stayed at a distance
And if she divorces her husband and
marries another man, she commits adultery."
But among you, there must not be even a hint of sexual immorality,
or of any kind of impurity, or of greed,
because these are improper for God's holy people.
I tell you that anyone who divorces his wife,
except for sexual immorality, and
marries another woman commits adultery."
So then, if she has sexual relations with another
man while her husband is still alive,
she is called an adulteress. But if her husband dies,
she is released from that law and is
not an adulteress if she marries another man.
 'If a man commits adultery with another man's wife
—with the wife of his neighbor
—both the adulterer and the
adulteress are to be put to death.
nor thieves nor the greedy nor drunkards
nor slanderers nor swindlers will
inherit the kingdom of God.
No temptation has overtaken you except what is
common to mankind. And God is faithful;
he will not let you be tempted beyond what you can bear.
But when you are tempted, he will also provide a way out so that you can endure it.
Flee from sexual immorality.
All other sins a person commits are outside the body,
but whoever sins sexually, sins against their own body.
No one who practices deceit will dwell in my house;
no one who speaks falsely will stand in my presence.
If we claim to have fellowship with him
and yet walk in the darkness, we lie and
do not live out the truth.
For there is nothing hidden that will
not be disclosed, and nothing concealed
that will not be known or brought out into the open.
Abstain from all appearance of evil.
Flee also youthful lusts: but follow righteousness,
faith, charity, peace,
with them that call on the Lord out of a pure heart.
But now you must also rid yourselves of all such things as these:
anger, rage, malice, slander, and filthy language from your lips.
Do not lie to each other, since you have taken off your old self with its practices and have put on the new self,
which is being renewed in knowledge in the image of its Creator.
What Happens When You Cheat in a Relationship/Marriage? Why is cheating harmful According To The Bible?
Pleasures of cheating are exciting and fun but the consequences are devastating. Cheating is wrong and it is against the Biblical principle of marriage.
Marriage, we admit, is a gift from God and a covenant made before God. Because it is a faithful partnership between husband and wife, you must be honest with yourself and your spouse.
There are a few things in life you can never take back. Cheating not only harms your family but also harms your connection with God. Here are some of the changes that might occur in your relationship when you cheat on your spouse.
The spouse does not wish to have you in their life.
It can cause your spouse a great deal of sorrow and suffering.
This might result in venting their frustration emotionally or in other ways.
They tend to lose confidence and feel completely useless.
How To Resist The Temptation To Cheat?
Nobody is born a thief or a sinner. As a result, believers should always endeavor to be truthful in their daily lives. Daily reading of the Holy Bible Loudly helps you avoid the temptation to cheat and teaches you to live an honest and faithful life.
In the light of this evidence, cheating is dangerous to conduct that should be avoided under all scenarios. Apart from the reality that it is unsuitable for True Christians and that God discourages it. We can see in the Book of Romans that Paul asked a peculiar query ie – We are those who have died to sin; how can we live in it any longer?". Anyone who isn't in Jesus is subject to the dominion of sin. They can't stop cheating. It is their only alternative in life. Christians now can quit sinning because of Jesus. We are no longer slaves to sin. As a result, when we have died to sin, we should no longer dwell in it. It's just not right to continue living in something you've died for.
Everyone should be aware of the Biblical consequences of cheating in their lives. The significance of honesty should be emphasized by Church Priests and Pastors.
Do you know more about Biblical Consequences Of Cheating? If yes, I would love to know in the comments section below.