What does the Bible have to say about Life? Our life is truly the most precious gift from God.  God created us in His image for a purpose. God's Scripture plays an important role in our everyday life. Take a look at these Short Bible verses about life.
The word of God reminds us that He is there for us to support through both good and bad experiences. Purpose, intimacy, and expression we need to be a part of every aspect of life. We want our life to have meaning. God is faithful and His kind of care will continue our whole lives.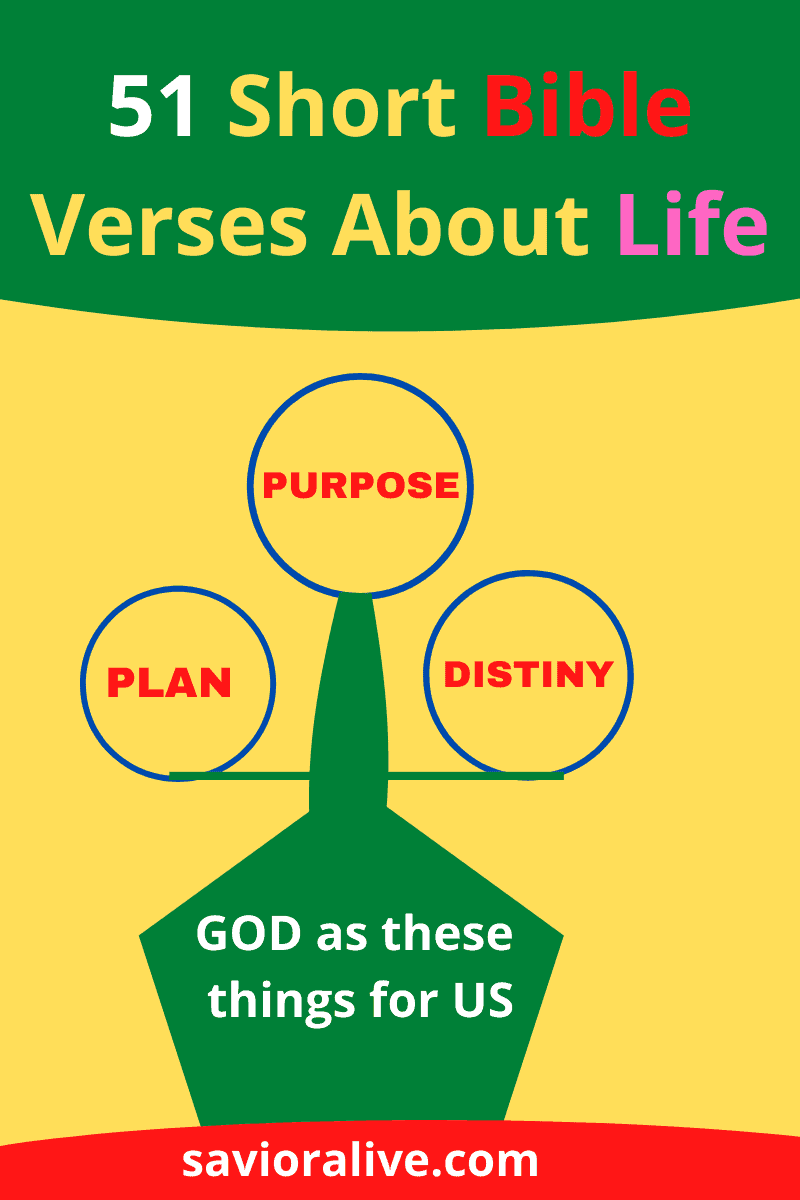 Short Bible Verses About Life | 51 Inspirational Life Reflections
Here's my selection of 51 Short Bible Verses About Life with a little explanation of what the verses reveal about life. Think about these Short Bible verses about life, considering on with a liberal way of life.
Be very careful, then, how you live—not as unwise but as wise.
The Epistle to the Ephesians' book is written by the Apostle Paul. In the above verse, Paul provides guidance to the Church on how the Believers should live in this world. Child of God to be filled with wisdom and the Holy Spirit. If one has the spirit of wisdom, they create meaning in everyday life.
As water reflects the face, so one's life reflects the heart.
Proverbs explains the importance and meaning of living a good life. What ideals and faith one hold in his heart will always reflect in his life. Hence thoughts should be pure because it is also responsible for one's action.
For we walk by faith, not by sight
We live our life by sight. The things we can see in the world as well as the things that surround us. Bible teaches us that rather than walk by sight a true spiritual Christian needs to trust Jesus and walk by faith. The word of God helps us to walk in victory.
Whatever you do, work heartily, as for the Lord and not for men
Whatever job we do, doesn't matter about the Job profile, we need to passionate about our job. We must aware that Jesus wants to be glorified in everything we do hence we are representing God in our workplace.  A genuine attitude is always important.
For what will it profit a man if he gains the whole world, and loses his own soul?
An individual's craving to win common benefits i.e. worldly profits, he will without a doubt lose his assets what Jesus put something aside for him. Whoever denies the world will win his soul.
For he that will love life, and see good days, let him refrain his tongue from evil, and his lips that they speak no guile
Our life goal is to get God's blessing and favor upon us. We should refuse to use our words to hurt others, regardless of how incredible the situation. Only we can please God by obedience.
What Is A Short Meaningful Bible Verse?
For You are my rock and my fortress; You lead and guide me because of Your name.
Psalmist explains how to trust God in difficult times. The word of God is comforting and provides guidance. The blood of Jesus and the Holy Spirit will protect us in our difficult moments.
Make me to know your ways, O Lord, teach me your paths
We can find God's paths and ways only in the Bible Scripture. Jesus Christ has an accurate plan for everyone. According to psalmist one can't walk in God's truth and gain proficiency with His way except if God lead him and God teaches it
Jesus said to them, "I am the bread of life; whoever comes to me shall not hunger, and whoever believes in me shall never thirst.
A Child of God must dedicate his life to Christ. As per the Bible Scripture whoever believes and trusts God will never lack anything in his life. Christ can provide spiritual needs as well as tangible needs
He who guards his mouth keeps his life, but he who opens wide his lips comes to ruin.
According to Bible Scripture, the tongue determines one's future. Speech is really important because the spoken word has the power to healing and reconciliation than any other thing. And one who guards his mouth keeps himself out of danger and protects his life.
And the LORD your God shall bless you in the land where you go to possess it.
In the New Testament, Jesus said that the first and greatest commandment is to Love your God with all your heart, soul, and mind. Our purpose is to love God in everything we do and keep his commandments.  And the lord Bless those who love him.
What Is A Good Bible Verse About Life?
Surely your goodness and love will follow me all the days of my life
The short Bible verses about life explain the personal relationship between a true believer and God. He has the confidence and security feeling that God's Goodness and Mercy will continue all the days of his life.
Whoever believes in me, as the Scripture has said, Out of his heart will flow rivers of living water.' "
As per the Bible Scripture Jesus is the living water. To receive the living water one must believe that Jesus is the only Savior of the world and maintain a meaningful relationship with Jesus. Jesus will bless and fill all the graces of the indwelling of the Holy Spirit to one who believes
The one who gets wisdom loves life
To protect one's life he has to achieve wisdom from God. In the event that you love yourself, you will look to secure more wisdom and understanding. Looking for wisdom is simply a definitive form of self-love. Wisdom brings prosperity and peace to one's life and He will fear the Lord.
Work at living in peace with everyone, and work at living a holy life
A Real Christian needs to be at peace with all individuals. If you are able to maintain purity in all aspects of your life, you can live in holiness. Hence peace and holiness need to be followed together. The great purpose of everyone's life to be live in Holy.
Whoever heeds discipline shows the way to life, but whoever ignores correction leads others astray.
Jesus' followers will devoted and dedicated to their faith and keep His Instruction. We must pray for the Holy Spirit's guidance and divine direction in our everyday life.
I have been crucified with Christ and I no longer live, but Christ lives in me.
This verse is Paul's grandest declaration about faith in Jesus Christ. Only through faith in Jesus, we can found salvation. We all know that Son of God was crucified for our sins. We need to crucify with Christ in a spiritual manner i.e. if anyone believes that Jesus paid for His sin then became a new creation by crucifying with Jesus.
What Is A Powerful Short Bible Quote?
Therefore I tell you, do not worry about your life
This short Bible verses about life remind us that no matter what Almighty God will take care of us. Jesus has promised that He will provide every need of ours. According to Jesus worrying is a sin because it denies the faith in God. Hence you don't worry about the future.
"For as in Adam all die, even so in Christ shall all be made alive."
In this verse, Paul explains Adam and Jesus Christ. And he mentioning the effect of Adam's sin was spiritual as well as physical death. And in Jesus, it is justification and resurrection. Jesus was raised from death on account of our justification. Whoever belongs to Jesus will be given new life.
"I am the way and the truth and the life. No one comes to the Father except through me".
By doing sins man lost his eternal life. Son of God came to earth to give eternal lives for all who believes in him. Only through Him, we gain our lost life. One who believes in him can enter eternal life.
Delayed hope makes the heart ill, but a fulfilled longing is a tree of life.
Most often human beings depend on their hope but hope always causes sick. And one who suppresses his desire he seeks his life. The suppression of desire is always the way to life.
For to me to live is Christ, and to die is gain.
According to Paul, life in this world meant to live for Christ and about death is gain because he can with Jesus.  Formerly we saw only through Jesus we can achieve life. One's motto is the heavenly abode. Jesus helps us to gain it.
You make known to me the path of life, you will fill me with joy in your presence
Our heavenly father directs us through the path of life in his presence. And He will provide everything you need in your life. One can attain life abundantly through God.
"And the LORD God formed man of the dust of the ground, and breathed into his nostrils the breath of life, and man became a living soul."
The creator formed the shape of men from the mud. Only his breath can give one's life. Without the breath of God man is only mud. Only his presence is able to give life to mud. Here we can see that the mud transformed into a living being.
I have come that they may have life, and have it to the full.
Human beings lost their eternal life by doing sins. One who has faith in Jesus Christ can avoid death Because in him one can be live abundantly and we can gain life.
I am the resurrection and the life.
Jesus second coming is for the judgment of people in all the nations. God gave mankind a privilege of choice between good and evil. In his, this judgment one will face his destiny according to his deeds. But one who believes in Jesus will get a resurrection and after it abounded life.
I can do all this through him who gives me strength
St. Paul the Apostle affirms us that only through Jesus Christ one can live in scarcity or with ample. He gives an account of some of the different and difficult circumstances he went in his life. And through that, he learned to be content regardless of his circumstances are.
And we know that for those who love God all things work together for good, for those who are called according to his purpose.
One's life has a purpose it is to fulfill a commandment of God. Jesus causes and helps us to fulfill his desire. Fulfilling the desire of Jesus one can satisfy the desire of God.
"I am the light of the world. Whoever follows me will not walk in darkness, but will have the light of life."
Jesus Christ refers to the true light of the earth so the darkness will not exist near light. Christ is the creator of all life. If you walk with Jesus, He will hold your hand in the tough times.
What Is An Easy One Line Bible Verse?
The tongue has the power of life and death
This applies to every Human being. A believer can either speak life or speak death. The tongue can only be used for prays, confesses, converses because we are ambitious of eternal life.
So get up—it's your responsibility! We're with you. Be strong, and get to work."
Christ is the biggest source of strength and courage. One who trusts Him can do all impossible things. By reading and meditating the Word of God helps us to be strong always even in our toughest days.
He gives strength to the weary and increases the power of the weak.
Our God is a gracious God, He filled with full of mercy and Love. His grace is sufficient for us.  All our efforts have limits but with God it is limitless. As per the Scripture, God promised that he gives power to the powerless and enabling them to renew their strength.
Now that we are at peace with God, we will be saved by the life of his Son.
Paul the Apostle describes that salvation is given through the message of Jesus. By faith in Jesus, one being declared righteous before God and some of the benefits that come along with declaration is the peace with God and able to walk in His grace. Hence for the day, today's life sin will not take authority over individuals.
The Lord will keep your going out and you're coming in from this time forth and forevermore.
God's protection will make us safe in every aspect of our life. Jesus is ever-present to hold us and keep us. God has given many promises in our life journey and the most important promise is that Jesus, we protect forever.
But seek first his kingdom and his righteousness, and all these things will be given to you as well.
This short Bible verses about life explain the practical advice for living on this earth. Most often people worry about earthly things compare to heavenly things. Here Jesus advised that one should seek first God's kingdom so whoever depends on Him, God will bless them and they can be part of everything God offers.
"But my God shall supply all your need according to his riches in glory by Christ Jesus."
Here Paul says God promises that we'll be blessed, there is no limit to Jesus's riches. Jesus known's our day today need before we even ask, He cared about the little things that we need. He will provide all our necessities of life.
"Keep your heart with all vigilance, for from it flow the springs of life."
Christians need to live with morals and values. We are not supposed to deviate from the way of Godly wisdom. Wisdom is maintained as the most gainful thing an individual can secure throughout everyday life. It brings honor and wellbeing.
"I will never leave you nor forsake you"
God is good and He loves us. Even when we forget God, He remembers who we are. Even if you are in a situation you never thought you'd be in, He's right there with you. Jesus has given us many precious blessings. In this verse, he promised that he will never leave us nor forsake us regardless of how savagely the harsh breezes attack our lives.
For I know the plans I have for you," declares the LORD, "plans to prosper you and not to harm you, plans to give you hope and a future.
Definitely, God has plans for us.  But as we travel our lives on this earth, we never know what news ahead and the things that come and go. One thing to remember that our Saviour is one who will pilot us through the most treacherous area of life. And eventually, He will give us a marvelous future.
My flesh and my heart may fail, but God is the strength of my heart and my portion forever.
There will be days of trial and testing in our life. We shall be tested in many ways. Our heart and flesh may fail so many times. But God will give the strength to our Heart to handle it. He is faithful and unchangeable nature. The only thing we need to do is keep trusting  God and believe in him.
"In all thy ways acknowledge him, and he shall direct thy paths."
The main aim of the verse is to walk in a straight path. As a believer, we need to ask guidance to Jesus in every new choices in life. He will show us the right way and clear all obstacles out of the way. The more you acknowledge the Jesus, He will give you directions.
Cast all your anxiety on him because he cares for you.
We are living in an age when anxiety is a major health problem. Half of the individual is stressed out. Stress-related to debt, safety, finance, health, etc. But when we wait in the presence of the Lord, God reminds us that only one thing is needed ie we need to give all the worry to God
You don't know what will happen tomorrow. What is life? You are a mist that is seen for a moment and then disappears.
We must accept that our life is a mist, don't try to live by a myth. The nature of life on this earth is fairly evident, yet people live life as though it were far different from reality. Life is short hence we need live every day for God.
I've told you this so that my peace will be with you. In the world, you'll have trouble. But cheer up! I have overcome the world.
Everyone will struggle in life at some point. Jesus Christ can help us to overcome the struggles we experience in this world. We need to find peace in Jesus. In the above verse, Jesus reminds us that we are not alone in this world.
The fear of the LORD is a fountain of life, To turn one away from the snares of death.
The fear of Jesus leads to Life. Not the case being afraid of the Lord. Our God is Holy and righteous God. We want to admire Him above all else and need to adopt an attitude that the fear of the Lord is our treasure.
Many are the plans in a person's heart, but it is the Lord's purpose that prevails.
God has bigger plans with us than we could ever imagine by ourselves. I have literally experienced this so many times in my life. We are constantly making decisions that are shaping our future but it will ruin our eternal life, it is the reason every time the counsel of the Lord abides forever.
"For whether we live, we live unto the Lord; and whether we die, we die unto the Lord: whether we live therefore, or die, we are the Lord's."
The way that we live to the Lord implies that our decisions must be made for His honor and in direction of His plan. A true real Christian is no longer walk in his plan because Jesus redeemed us. Jesus is one who paid for us on the cross.  As per the verse, we will always belong to God.
But my life is worth nothing to me unless I use it for finishing the work assigned me by the Lord Jesus.
According to Paul, we are on a mission. The most important thing in everybody's life to complete that mission. As a Christian, you need to share the Gospel. You need to tell other people about the Good  News of the Grace of Jesus.
Whoever pursues righteousness and love finds life, prosperity, and honor.
This Short Bible verses about life teach us that we need to give more importance to spiritual growth and practice righteousness in all kinds of life (thinking, speaking, and acting) then only our life will become prosperous. Relationship with God has a key role in building a good life.
Make it your goal to live a quiet life.
The First Epistle to the Thessalonians is written by St. Paul the Apostle, in this verse Paul is instructed people to live with simplicity. It basically means to lead a peaceful life. A Hard-working lifestyle helps someone to become successful and lead a quiet life.
For we brought nothing into the world, and we can take nothing out of it.
This short Bible verses about life reminds us that worldly possession is only meant for this temporary life. Luxury and riches are not permanent. A child of God needs to find out joy by spending time with God. Paul says in the above verse, that greed will ruin a believer's life from faith.
I hope these Short Bible Verses About Life can refresh your mind and create meaning in your day to day life. Treasure every moment you have and live this life to the fullest. God is faithful and His kind of care will continue our whole lives.
Can you think of other Short Bible Verses About Life? Please share them in the comments.