What Does the Bible Say About Drugs? The Holy Scripture contains a handful of cautions concerning the risks of overconsumption, which may be interpreted as substance misuse in general.
I'll answer in the context in which we're discussing illegal drugs (narcotics) here, not medicinal pharmaceuticals. These illegal drugs alter one's psyche and lead them to lose control of their mental abilities.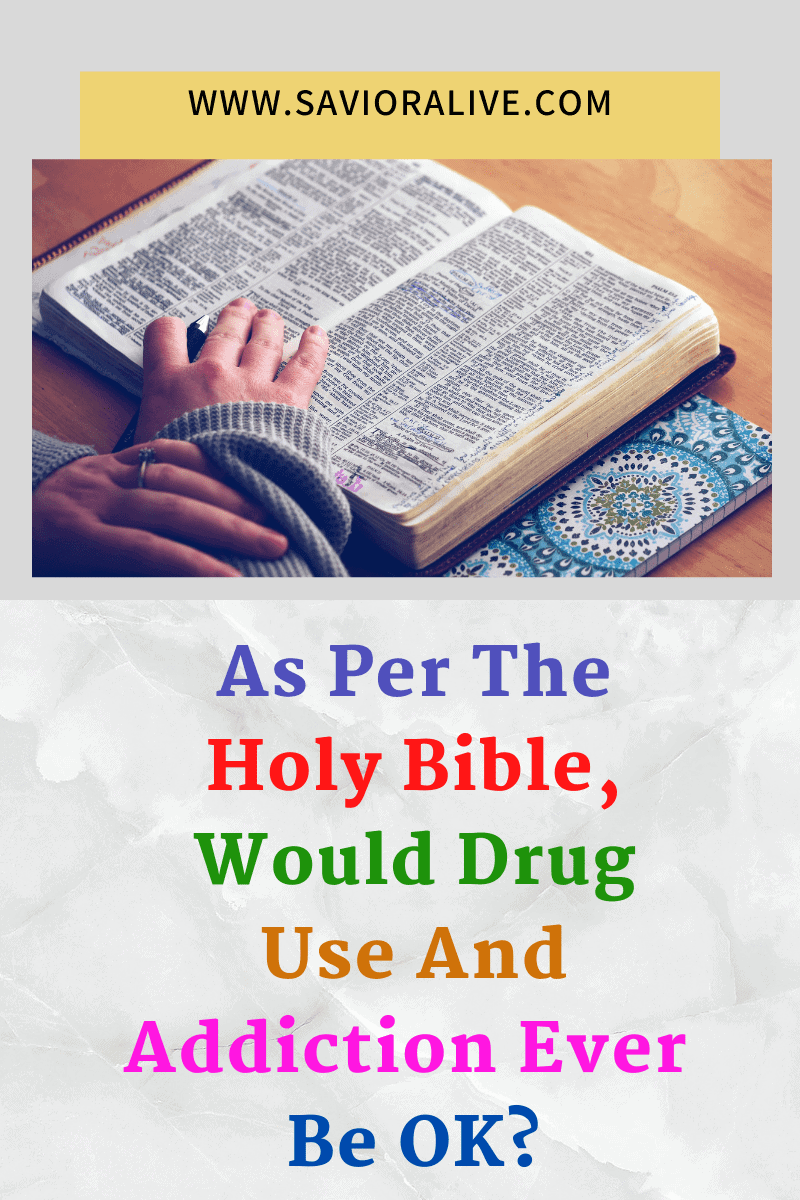 What Are Drugs? What Does The Bible Say About Drugs?
Drugs are chemicals that affect the mental or physical condition of a person. Individuals use illegal drugs for various reasons and in several ways. A person suffering from drug addiction frequently lacks SPIRITUALITY.
We must all develop our moral judgments about what is ethically right and wrong in our life. Many individuals turn to the Holy Scripture for life advice as well as a set of values and principles.
Many verses in the Holy book address substance misuse. All who belong to God's Kingdom should live lives that reflect what God wants for his children. Many Scripture verses can be taken to suggest that addiction is a sin. We are cautioned in the first book of Corinthians that temptations might overtake us, but we are also given the power to fight such temptations.
As Per The Holy Bible, Would Drug Use And Addiction Ever Be OK?
The Holy Scripture refers to God as the Creator and Author of Life. What Does the Bible Say About Drugs? According to the Holy Bible, "instructing us to the intent that, denying ungodliness and worldly lusts, we would live soberly, righteously, and godly in this present world (Titus 2:12). Believers must listen to God's Word and avoid circumstances involving drugs and alcohol. The Word Of God has a strong opinion about drunkenness, sobriety, and purposefully damaging one's physique.
What Does The Bible Say About Drinking Alcohol?
Why Do People Take Drugs? The Root Cause Of Addiction.
The fundamental reason for the addiction is sometimes difficult to identify. So, what are the factors that contribute to drug abuse?
Addiction is often the result of traumas and pain. Each individual's story will be different.
Significant Factors Contributing To Drug Abuse Are Given Below.
Drug addiction is not the answer to these problems. The remedy is to give your life to Lord Jesus and ask Him for forgiveness and healing.
How To Overcome Drug Addiction According To The Holy Bible
We are all aware that drug addiction may have serious consequences for your health, personal relationships, and lifestyle. Illicit drug usage results to wreak havoc on your health, not only physically, but also psychologically and emotionally. Drugs are the world's third leading cause of severe illness.
Drug addiction shall always be regarded as a temptation. Many people find it hard to bear. However, Jesus Christ offers a way forth. Rehabilitation and addiction therapy can assist patients in overcoming the condition, and spirituality, above all, is a vital component of healing.
What Are Some Solutions For Addiction?
According to the Holy Bible, there are several ways to overcome addiction. In a dark and dreary environment, the Holy Scripture will be a source of light. The Holy Bible is the highest sign of inspiration. During our traumas and suffering, we must pray, fast, read Scripture, and reflect on God's word and acts. There is a Creator who is aware of our specific situation. Christ has the ultimate power and authority to make you a fresh start. I will give you a new heart and put a new spirit in you; I will remove from you your heart of stone and give you a heart of flesh." (Ezekiel 36:26).
What Does The Bible Say About Drugs Or Drug Abuse? | Bible Verses About Addiction
Do you not know that your bodies are temples of the Holy Spirit, who is in you, whom you have received from God? You are not your own; you were bought at a price. Therefore honor God with your bodies.
Do not be deceived: "Bad company ruins good morals."
Know ye not that ye are the temple of God, and that the Spirit of God dwelleth in you? If any man defiles the temple of God, he shall God destroy; for the temple of God is holy, which temple ye are.
Don't you know that if you offer to be someone's slave, you must obey that master? Either your master is sin, or your master is obedience. Letting sin be your master leads to death.
Put to death, therefore, whatever belongs to your earthly nature: sexual immorality, impurity, lust, evil desires, and greed, which is idolatry.
And have no fellowship with the unfruitful works of darkness, but rather reprove them."
Dear friends, I urge you, as foreigners and exiles, to abstain from sinful desires, which wage war against your soul.
A person without self-control is like a city with broken-down walls.
"Be sober, be vigilant; because your adversary the devil, as a roaring lion, walketh about, seeking whom he may devour:"
Now the works of the flesh are manifest, which are these; Adultery, fornication, uncleanness, lasciviousness, Idolatry, witchcraft, hatred, variance, emulations, wrath, strife, seditions, heresies, Envyings, murders, drunkenness, revellings, and such like: of the which I tell you before, as I have also told you in time past, that they which do such things shall not inherit the kingdom of God.
But beware in your souls that your hearts never grow cold with gluttony and with drunkenness and with the cares of the world, and suddenly it shall come upon you that day.
"He shall separate himself from wine and strong drink, and shall drink no vinegar of wine, or vinegar of strong drink, neither shall he drink any liquor of grapes, nor eat moist grapes, or dried."
But now I am writing to you that you must not associate with anyone who claims to be a brother or sister but is sexually immoral or greedy, an idolater or slanderer, a drunkard or swindler. Do not even eat with such people. What business is it of mine to judge those outside the church? Are you not to judge those insides? God will judge those outsides. "Expel the wicked person from among you."
Don't let anyone look down on you because you are young, but set an example for the believers in speech, in conduct, in love, in faith, and in purity.
"If your hand or your foot causes you to stumble and sin, cut it off and throw it away from you [that is, remove yourself from the source of temptation]; it is better for you to enter life crippled or lame than to have two hands or two feet and be thrown into everlasting fire.
nor thieves nor the greedy nor drunkards nor slanderers nor swindlers will inherit the kingdom of God.
In summary, Jesus Christ is the only solution that transforms you and molds you into a new individual. He has the power to grant you a new heart, a fresh start, and a new personality. As a result, when faith becomes ingrained in a person's mind, he or she gains a new identity.
You are still not a drug addict. If you've been struggling with drug addiction for a while and want to start a new, clean life, this may be the day. Spiritual rehabilitation is the answer to a life free of addiction. I believe this article has given you a deeper explanation of the Biblical insights on the painful issue of drug addiction and also what does the Bible says about drugs?