You've definitely heard that alcohol is forbidden for Christians, but what does that mean and why is it prohibited in the Holy Scriptures?
If you're wondering what does the Bible says about alcohol, the following article would help. In general, there are several verses in the Bible that advise of the hazards of alcohol.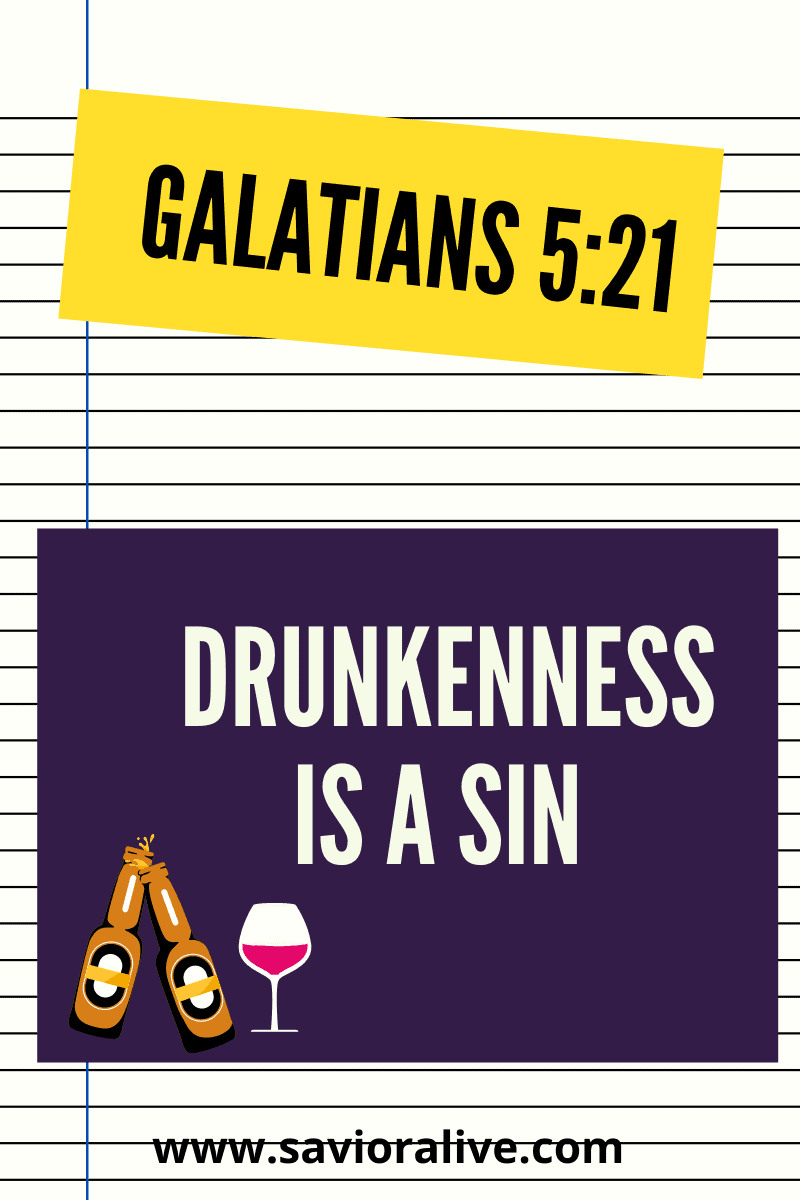 What Does The Bible Say About Alcohol? | What Is Alcohol?
Alcohol is a harmful and intoxicating chemical that can lead to addiction. Many individuals believe that the Bible prohibits the intake of alcohol unless in particular situations but the Bible makes it clear that alcohol is addictive. Addiction to anything is typically harmful and sinful.
It has an impact on our capacity to think, assess information, and make sound decisions. We should always strive for control over our thoughts and behaviors, as well as be mindful of the consciences of others. Alcohol is not a divine gift, therefore don't believe when someone justifies alcohol consumption in a favorable light. Drunkenness is a sin according to the Holy Bible (Envyings, murders, drunkenness, revellings, and such like: of the which I tell you before, as I have also told you in time past, that they which do such things shall not inherit the kingdom of God – Galatians 5:21). Hence Christians should not drink alcohol.
Bible Verses About Smoking: What Does Scripture Say?
Is Occasional Social Drinking Okay For Christians?
The answer is No. Let's learn more about this topic.
My ultimate objective is to explain the majority of what I have learned from the Holy Scripture that has influenced my views on alcohol. I was brought up in a household where any alcoholic beverage was considered a dreadful sin for a Believer. The Holy Scripture clearly states that drunkenness resulting from the drinking of alcohol is a sinful process from beginning to end.
Several individuals try to invent their own definitions of moderate and responsible alcohol usage. According to the Holy Bible, occasional and moderate drinking is not permissible. Many individuals will be denied Heaven as a result of their alcoholic lifestyle. Believers are not to use God's Word to justify their fleshly behavior.
Is Drinking Alcohol A Sin In The Bible?
The Holy Scripture is replete with cautions against drinking wine and other alcoholic beverages. Individuals who consume alcohol deplete not only their own lives but also the lives of countless others. The Scripture makes it very apparent that our bodies are temples of the almighty God, as mediated by the Holy Spirit. Solomon, the King, said, wine is an intemperate thing, and strong drink full of violence: but every fool is entangled with them. And provides them with woe, sorrow, strife, complaining, wounds without cause & redness of eyes. Do not gaze at wine when it is red when it sparkles in the cup when it goes down smoothly! In the end, it bites like a snake and poisons like a viper". Alcoholism causes significant issues in the physical, mental, and spiritual realms.
Biblical Examples Of Drunkenness
Now, let's look at the Biblical examples of drunkness.
The Holy Scripture provides a handful of incidents to discuss the dangers of alcoholism. Now let's examine certain Biblical instances of people who drank alcohol and the consequences it had on their life. There are several examples of individuals, but I have chosen only a few.
Noah became drunk, the consequence was:-
His son committed sin.
The grandchild was cursed.
Family strife.
Lot became drunk, the consequence was:-
Lot's family's misdeeds had long-term effects.
His daughters had an incestuous relationship.
Immorality
Nabal became drunk, the consequence was:-
Nabal died as a result of a drinking binge.
Amnon became drunk, the consequence was:-
Amnon committed lusts with his half-sister Tamar.
Absalom, her brother murder him.
Ben-Hadad and other kings became drunk, the consequence was:-
The Israelites fought and conquered Ben-Hadad and other rulers.
34 Bible Verses About Alcohol And Drunkenness
There are very powerful instructions in the Scripture against getting alcoholic. To figure out what the Lord says about drinking, we must read God's word.
The verses listed below discuss drinking and the hazards of alcohol misuse. I thought having all of the important passages in one location would be handy. If you're still not convinced that drinking is prohibited in the Scripture, consider this:Let's take a closer look at these passages, shall we?
Ephesians 5:18 – Don't be drunk with wine, because that will ruin your life. Instead, be filled with the Holy Spirit
Proverbs 20:1 – Wine produces mockers; alcohol leads to brawls. Those led astray by drink cannot be wise.
1 Corinthians 6:9 – Don't you realize that those who do wrong will not inherit the Kingdom of God?
Proverbs 23:29-35 – Who has anguish? Who has sorrow? Who is always fighting? Who is always complaining? Who has unnecessary bruises? Who has bloodshot eyes? It is the one who spends long hours in the taverns, trying out new drinks.
Romans 14:21 – It is better not to eat meat or drink wine or do anything else if it might cause another believer to stumble.
Isaiah 5:11 – What sorrow for those who get up early in the morning looking for a drink of alcohol and spend long evenings drinking wine to make themselves flaming drunk.
Galatians 5:19-25 – When you follow the desires of your sinful nature, the results are very clear: sexual immorality, impurity, lustful pleasures.
Isaiah 5:22 – What sorrow for those who are heroes at drinking wine and boast about all the alcohol they can hold
Galatians 5:21 – envyings, murders, drunkenness, revellings, and such like: of the which I tell you before, as I have also told you in time past, that they which do such things shall not inherit the kingdom of God
1 Timothy 3:8 – Likewise must the deacons be grave, not double-tongued, not given to much wine, not greedy of filthy lucre
Romans 13:13 – Let us walk honestly, as in the day; not in rioting and drunkenness, not in chambering and wantonness, not in strife and envying.
Proverbs 23:21 – For the drunkard and the glutton shall come to poverty: And drowsiness shall clothe a man with rags.
Leviticus 10:9-11 – Do not drink wine nor strong drink, thou, nor thy sons with thee, when ye go into the tabernacle of the congregation, lest ye die: it shall be a statute forever throughout your generations
Luke 21:34 – And take heed to yourselves, lest at any time your hearts be overcharged with surfeiting, and drunkenness, and cares of this life, and so that day come upon you unawares.
1 Corinthians 6:10 – nor thieves, nor covetous, nor drunkards, nor revilers, nor extortioners, shall inherit the kingdom of God.
Hosea 4:11 – They destroy their minds with old wine and new wine.
1 Peter 5:8 – Be sober, be vigilant; because your adversary the devil, as a roaring lion, walketh about, seeking whom he may devour
Proverbs 31:4 – It is not for kings, O Lemuel, It is not for kings to drink wine, Or for rulers to desire strong drink
Numbers 6:3 – he shall abstain from wine and strong drink; he shall drink no vinegar, whether made from wine or strong drink nor shall he drink any grape juice nor eat fresh or dried grapes.
Proverbs 31:5 – For they may drink, then forget what has been decreed, and pervert the justice due to the poor.
Judges 13:4 – Now therefore beware, I pray thee, and drink not wine nor strong drink, and eat not any unclean thing
1 Corinthians 5:11 – But now I have written unto you not to keep company if any man that is called a brother be a fornicator, or covetous, or an idolater, or a railer, or a drunkard, or an extortioner; with such a one no not to eat.
1 Corinthians 6:19 – What? know ye not that your body is the temple of the Holy Ghost which is in you, which ye have of God, and ye are not your own?
1 Corinthians 3:17 – If any man defile the temple of God, him shall God destroy; for the temple of God is holy, which temple ye are.
Proverbs 21:17 – He that loveth pleasure shall be a poor man: He that loveth wine and oil shall not be rich.
Titus 1:7 – For a bishop must be blameless, as the steward of God; not self-willed, not soon angry, not given to wine, no striker, not given to filthy lucre
Daniel 1:8 – But Daniel purposed in his heart that he would not defile himself with the portion of the king's meat, nor with the wine which he drank:
Proverbs 23:31 – Look not thou upon the wine when it is red, When it giveth his colour in the cup, When it moveth itself aright.
Proverbs 23:20 – Be not among winebibbers; Among riotous eaters of flesh
Romans 12:2 – And be not conformed to this world: but be ye transformed by the renewing of your mind, that ye may prove what is that good, and acceptable, and perfect, will of God.
Ezekiel 44:21 – Neither shall any priest drink wine when they enter into the inner court.
1 Timothy 3:3 – not given to wine, no striker, not greedy of filthy lucre; but patient, not a brawler, not covetous
Ephesians 5:18 – Do not get drunk on wine, which leads to debauchery. Instead, be filled with the Spirit
Isaiah 5:22 – Woe to those who are heroes at drinking wine and champions at mixing drinks
I believe this article helps you thoroughly grasp what does the Bible says about Alcohol and make the greatest decision for your own life. Keep in mind, there isn't a single good opinion regarding drinking in the Word Of God.
Allow this blog to act as motivation for you to finish the race strong and with tenacity. I'd want to hear your thoughts on this in the comments section below.
God Bless you