Many individuals wonder whether smoking is a sin. Should Believers consume tobacco products? The Scripture contains teachings that demonstrate our Heavenly father does not accept harmful and immoral practices and hence considers smoking to be a sin.
We've done our best to provide you with the most accurate Biblical information, as well as references to various passages of Holy Scripture. Continue reading to discover the definitive answer to the big question, What does the Bible say about smoking?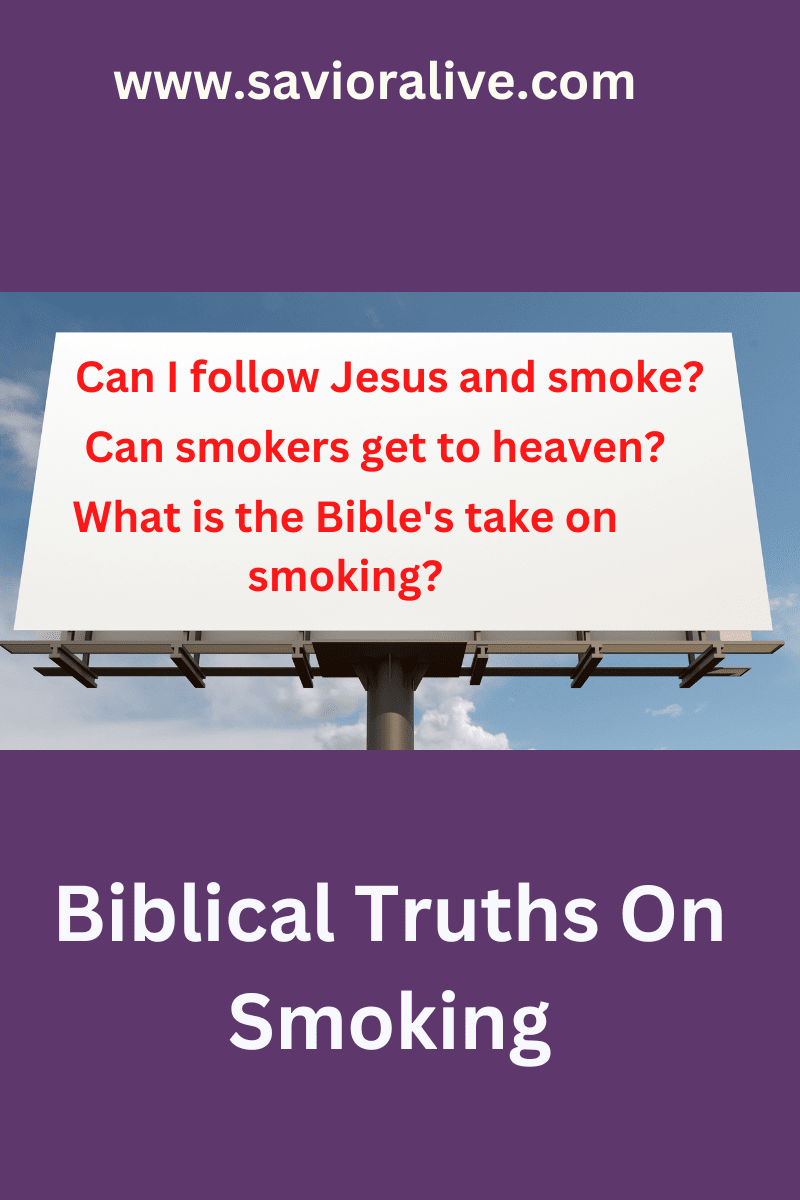 What Does The Bible Say About Smoking | Important Bible Verses
Let's review this important topic.
According to God's Word, our bodies are God's temple, and we belong to Him, Jesus Christ died on the cross for our sins. The Apostle Paul provides us with several straightforward and obvious pieces of advice to think about in 1 Corinthians 6:19-20 (Do you not know that your bodies are temples of the Holy Spirit, who is in you, whom you have received from God? You are not your own; you were bought at a price. Therefore honor God with your bodies.)
To provide a sound answer, let us first define smoke. Smoke is made up of gas and tiny pieces of solid material that are released into the atmosphere when something burns. When you smoke, you are slowly killing yourself. So, if you're wondering if smoking is an unforgivable sin, the answer is yes. People are not forgiven if they are aware of the effects yet continue to smoke due to temptation.
What Does The Bible Say About Drugs?
Individuals who smoke cigarettes do not honor the Lord.
Tobacco, for example, is responsible for the deaths of up to 50% of its users. The Scripture prohibits taking one's own life. Self-harm is considered by the Bible to be the same as sin. Sin is defined as any behavior, emotion, or thinking that is contrary to Heaven's principles. Tobacco usage is a deadly health risk.
What Does The Bible Say About Smoking | Dangerous Of Smoking
Tobacco smoking is medically connected to cancer, heart disease, stroke, lung disease, and other diseases. Holy scripture does not mention the word smoking, but it has a lot to say about it.
Can I Follow Jesus And smoke?
Toxins are abundant in cigarettes. This comfort will not last long, nor will this pleasure. Why are you turning to smoke for comfort when Jesus is available? Jesus commands his believers to flee from all forms of addiction. "Will this honor Jesus?" should always be your first priority. Because He constantly gives a way to avoid addictions.
You chose to put yourself in a useless mental state for the Lord's purpose through smoking. Jesus is not responsible for rescuing you from a disaster you created by ignoring or rejecting Him. That is, if you ignore wisdom and make a dumb decision, you are solely accountable. Proverbs 22:3 A prudent person with insight foresees danger coming and prepares himself for it. But the senseless rush blindly forward and suffer the consequences.
As Per The Holy Bible Can Smokers Get To Heaven?
People will have to conquer their addictions before being able to enter the Kingdom of Heaven since no filthy soul may enter. But nothing unclean will ever enter it, nor anyone who does what is detestable or false, but only those who are written in the Lamb's book of life. (Revelation 21:27). Certain things are prohibited for Christ-followers, those are pretty clear in the above passages.

How Does Christianity View Smoking?
Smoking is addictive. Our mind, body, and soul belong to the Lord. It should never be used to commit sin because we are instruments of righteousness. Believers should refrain from demeaning their bodies with earthly immoral desires. Addiction to smoking is an extremely serious sin. The Holy Bible also contains explicit commandments that forbid the use of such desire. Believers must abstain from everything that does not offer honor to Christ. Only by reading and meditating on the Scripture will help one achieve faith, conscience, and willpower to resist worldly addictions. We children of God must rely on the Bible for guidance. If we do not, our desire will push us to engage in a number of immoral behaviors.
10 Important Bible Verses About Smoking & Addiction
If you know where to look, the Scripture has a lot to say about smoking. Take some time to read over various passages of scripture about what does the Bible say about smoking
Here is a look at 10 of the most common passages
II Timothy 3:4
People will turn against their friends. They will do foolish things without thinking and will be so proud of themselves. Instead of loving God, they will love pleasure.
I Corinthians 6:19-20
Or do you not know that your body is the temple of the Holy Spirit who is in you, whom you have from God, and you are not your own? For you were bought at a price; therefore glorify God in your body and in your spirit, which are God's.
I Corinthians 10:31
Therefore, whether you eat or drink, or whatever you do, do all to the glory of God.
Galatians 5:19-21
The acts of the flesh are obvious: sexual immorality, impurity, and debauchery; idolatry and witchcraft; hatred, discord, jealousy, fits of rage, selfish ambition, dissensions, factions, and envy; drunkenness, orgies, and the like. I warn you, as I did before, that those who live like this will not inherit the kingdom of God.
I Corinthians 3:17
If anyone destroys God's temple, God will destroy him. For God's temple is holy, and you are that temple.
Ephesians 5:5
For of this, you can be sure: No immoral, impure, or greedy person—such a person is an idolater—has any inheritance in the kingdom of Christ and of God.
Romans 6:19-20
I speak in human terms because of the weakness of your flesh. For just as you presented your members as slaves of uncleanness, and of lawlessness leading to more lawlessness, so now present your members as slaves of righteousness for holiness. For when you were slaves of sin, you were free in regard to righteousness.
Revelation 9:20-21
The rest of mankind who were not killed by these plagues still did not repent of the work of their hands; they did not stop worshiping demons, and idols of gold, silver, bronze, stone, and wood—idols that cannot see or hear or walk. Nor did they repent of their murders, their magic arts, their sexual immorality, or their thefts.
1 Peter 5:8
Be alert and of a sober mind. Your enemy the devil prowls around like a roaring lion looking for someone to devour.
Matthew 18:7
Woe to the world for temptations to sin! For it is necessary that temptations come, but woe to the one by whom the temptation comes!
Questions & Answers regarding Smoking.
If you want points-wise responses concerning this topic, see our answers to the frequently asked questions about smoking.
Question 1. Is Smoking A Sin Yes or No?
Answer 1. It is, indeed, a sin.
Smoking has an evil origin.
Smoking is extremely addicting.
There are seducing spirits in smoking.
Smoking is dangerous because it harms the organs in the body.
It is a waste of money to smoke.
Smoking is harmful to both the individual and others around them.
Question 2. What Does The Bible Say About Smoking Cigarettes?
Answer 2. Human beings are meant to serve as a dwelling place for God's Spirit, and as such, we were to do all in our ability to preserve our mind and body free of anything that might cause harm to us or destroy our physical condition.
(1 Corinthians 3:16-17 )Don't you know that you yourselves are God's temple and that God's Spirit dwells in your midst? If anyone destroys God's temple, God will destroy that person; for God's temple is sacred, and you together are that temple.
Question 3. Can a person smoke and be a REAL Christian? And What is the Christian view of smoking?
Answer 3. A real Christian will not smoke. If a person continues to smoke, he cannot truly obey the Almighty God, and the People who are attracted to smoke are slaves who have been subdued by sin. When Jesus enters your life, everything changes. Jesus has the ability to replace worldly thinking with Godly thoughts. The love of God is transformative.
As per the Holy Scripture, "No one can serve two masters". (Matthew 6:24-26)
We must do everything that glorifies God.
Smoking is demonic. True Christians can be identified by their gospel fruit and also people are transformed by gospel fruits.
The Bible describes smoking as a deceptive temptation. Therefore someone who smokes will never be a true Christian since smoking cannot be a part of a Christian's lifestyle.
Question 4. Can Religion Help You Quit Smoking?
Answer 4. Yes, religion will assist you in quitting smoking and living a God-fearing life. Humanly speaking, a puff of tobacco would never provide true satisfaction. Prayer and Bible reading is the easiest approach to break your smoking habit.
Prayer –
Pray for deliverance from the habit of smoking. The Lord's amazing grace will help you in beginning a new life.
Bible reading –
Read and meditate on the Word of God. It has the ability to cleanse you from the inside out. If you spend time on God's Word, you will put first God in your life. The word of God is all-powerful to help you quit all your smoking addictions.
Question 5. Can smokers go to heaven?
Answer 5. NO, smokers will never enter the Kingdom of Heaven. As with other addictions, smoking is a sin. It will send you straight to hell.
And a highway shall be there, and a way, and it shall be called The way of holiness; the unclean shall not pass over it; but it shall be for those: the wayfaring men, though fools, shall not err therein. (Isaiah 35:8)
Smoking is also a kind of sorcery.
But the fearful, and unbelieving, and the abominable, and murderers, and whoremongers, and sorcerers, and idolaters, and all liars, shall have their part in the lake which burneth with fire and brimstone: which is the second death. (Revelation 21:8).
As a result, every smoking addiction can be broken by the power of God. Refrain from potentially harmful habits. So you may have a more fulfilling life, both physically and spiritually. I hope that whoever reads this post will get the confidence and strong desire to quit smoking and lead a true Christian life.